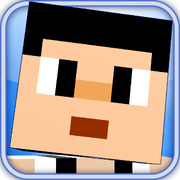 The Blockheads is a free to play IOS game similar to that of Minecraft and Terraria. You can break and place blocks, craft items, fight off Dropbears, and try not to starve. You can travel to the North Pole and back, cool right? Watch the fish, mine, or even make a boat and sail the seas. Dig straight down to the core, or tower up into the starry heavens. The possibilities are endless!
Categories
Edit
Ad blocker interference detected!
Wikia is a free-to-use site that makes money from advertising. We have a modified experience for viewers using ad blockers

Wikia is not accessible if you've made further modifications. Remove the custom ad blocker rule(s) and the page will load as expected.